Schengen Information System
The Schengen Area
The free movement of persons is a fundamental right guaranteed by the EU to its citizens. It entitles every EU citizen to travel, work and live in any EU country without special formalities. Schengen cooperation enhances this freedom by enabling citizens to cross internal borders without being subjected to border checks. The border-free Schengen Area guarantees free movement to more than 400 million EU citizens, as well as to many non-EU nationals, businessmen, tourists or other persons legally present on the EU territory.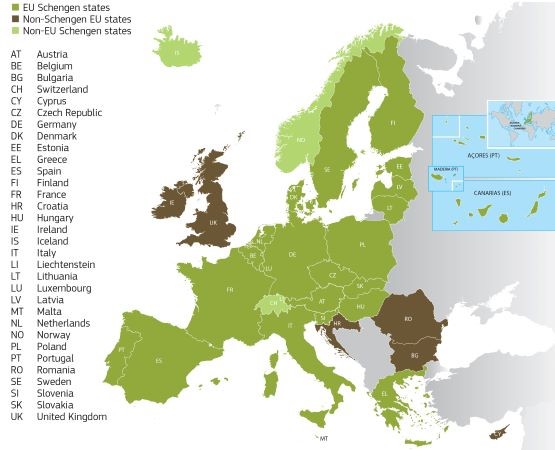 Today, the Schengen Area encompasses most EU States, except for Bulgaria, Croatia, Cyprus, Ireland, Romania and the United Kingdom. However, Bulgaria and Romania are currently in the process of joining the Schengen Area. Of non-EU States, Iceland, Norway, Switzerland and Liechtenstein have joined the Schengen Area.
The Schengen provisions abolish checks at the Union's internal borders, while tightening controls at the external borders, in accordance with a single set of rules.
What is the Schengen Information System?
The Schengen Information System (SIS) is the most widely used and largest information sharing system for security and border management in Europe. SIS enables competent national authorities such as the police and border guards, to enter and consult alerts on persons or objects. SIS is in operation in 30 European countries, including 26 EU Member States (only Ireland and Cyprus are not yet connected to SIS) and 4 Schengen Associated Countries (Switzerland, Norway, Liechtenstein and Iceland).
EU Member States with special arrangements:
Bulgaria, Romania and Croatia are not yet part of the area without internal border checks (the 'Schengen area'). However, since August 2018, Bulgaria and Romania started using fully SIS. A Council Decision is still required for the lifting of checks at the internal borders of these two Member States. In the case of Croatia, there are still some restrictions regarding its use of Schengen-wide SIS alerts for the purposes of refusing entry into or stay in the Schengen area. Those restrictions will be lifted as soon as Croatia has become a part of the area without internal border checks.
The United Kingdom operates SIS but, as it has chosen not to join the Schengen area, it cannot issue or access Schengen-wide alerts for refusing entry and stay into the Schengen area.
Ireland and Cyprus are not yet connected to SIS. Ireland is carrying out preparatory activities to connect to SIS, but, as is the case for the UK, it will not be able to issue or access Schengen-wide alerts for refusing entry or stay. Cyprus has a temporary derogation from joining the Schengen area and is not yet connected to SIS.
 An SIS alert does not only contain information about a particular person or object but also instructions for the authorities on what to do when the person or object has been found. The national SIRENE Bureaux located in each participating country serve as single points of contact for the exchange of supplementary information and coordination of activities related to SIS alerts.
On 9th April 2013 a more up-to-date system, called SIS II offering additional functionalities entered into operation.
A designated authority in each participating country has the responsibility for the operation of its section of the SIS.  The N-SIS II Office (Ministry of Interior, Deputy State Secretariat for Data Registers, Department for Schengen Matters and Users Management),